Are the people in your home comfortable with the same indoor temperature? Or do you sometimes disagree on whether it's cool enough during summer or warm enough in winter?
If you can't see eye to eye when it comes to air conditioning at home, no worries.
People are different, so what's perfectly toasty for one might be too hot for another. The temperature you find relaxing and cool may feel too warm for your kids.
There's an easy way to deal with these individual temperature preferences: get a multi-head split system air conditioning system installed. Multi-split system air conditioners are ideal for residences where different family members have their own comfort levels and version of what's hot or cold. The temperature of each system has its own temperature control and can be changed seamlessly to cool or warm each room.
Understanding Multi-Head Split Air Conditioners
There are many types, brands and models of multi-split air conditioners on the market, with a wide variety of features. In general, however, multi-head split air conditioning systems have the following components:
1. They Use Inverter Technology
To understand inverter technology, you need to know the difference between traditional air conditioning systems and ones that use inverters. In older air conditioning equipment, there is a noticeable start and stop characteristic of conventional forced-air heating and cooling systems.
What happens with these systems is that whenever the thermostat senses that more hot (heating mode) or cool (cooling mode) air is required, the compressor is activated. And when the thermostat receives a signal that the desired temperature has been achieved, the compressor is automatically deactivated.
With this kind of technology, large amounts of energy are consumed and wasted, particularly whenever the compressor turns off and on – generating excessive running costs and power consumption.
But with inverter technology (or variable-speed technology), energy wastage is eliminated.
An inverter controls the speed of the compressor motor, which enables the latter to regulate temperature continuously – without the noticeable starts and stops and noise associated with earlier systems. The compressor operates at variable speeds, so the air conditioning system slows down or speeds up as necessary to deliver a stable, comfortable temperature.
2. They Are Equipped With Heat Pumps
Like split system air conditioners, multi-head split system air conditioning relies on heat pumps to heat and cool the air that the unit produces. Heat pumps are valued for their energy efficiency as they are known to use significantly less energy than traditional furnaces and air conditioners. They work by utilising the natural tendency of heat to move from warm to cool areas.
With just a small amount of electricity, the process of heating and cooling is facilitated.
3. They Have Temperature Sensors
Whilst inverter technology is a major technological milestone in air conditioning, sensors take the ability of inverters in helping maintain consistent temperatures one step further.
Through the use of specialised sensors, the system detects even small temperature changes, so adjustments are made automatically to ensure consistent heating or cooling. In the multi-head system air conditioners, sensors are located in every zone or room to maintain the temperature individual users want. This individual control solution allows residents to set the room to the temperature they find most comfortable.
Install a Multi-Head Split System Air Conditioner

Busselton Refrigeration & Air Conditoning service the entire South West region, so no matter where you are located, our team is here to help with all your air conditioning needs!
How Multi-Split Air Conditioners Work
Multi-split system air conditioners, like those made by Daikin, can heat or cool different rooms in a property with only a single outdoor unit connected to multiple indoor units.
They use the same technology as normal split unit systems, where half the system (or condenser) is located outside the home. The other half of the system or internal unit is placed inside the house.
When cooling is required, the fan coil or internal unit sucks out the warm air from inside the room, which results in cool air recirculating into the house. To warm a specific zone, the heat pump works in reverse, providing much-needed heating during cold winter days.
The single outdoor unit feeds into the indoor multi-head systems in individual rooms.
All indoor units include an individual control for temperature. You can schedule and set the desired room temperature for each particular room through its indoor unit.
For example, you can set the living room temperature at 20°C, a bedroom at 22°C, your home office at 24°C and the master bedroom unit completely turned off if it is empty – you have the option to not cool unoccupied areas. If you are using only one room, you need only operate the unit in your room.
This ensures energy efficiency and savings on running costs when using your multi-head split system air conditioner.
By using an air conditioning multi-split system, you can keep cool during the summer and comfortably warm in the winter – whatever your individual temperature preferences in your rooms.
Of course, the major advantage of multi-head split air conditioners is that they enable you to either heat multiple rooms or cool multiple rooms simultaneously with only one outdoor unit.
Types of Multi-Head Split System Indoor Units
There are different types of multi-head split system indoor air conditioning units available. All are designed to blend into your home interior and will look good in any space.
Innovative air conditioning design and technology from Daikin has led to the production of stylish and unobtrusive head units that are easy to instal in homes and buildings.
These are the types of indoor units available for multi-head split systems which when installed, are connected to one outdoor unit on the exterior of your home:
1. Wall-Mounted Split System Air Conditioning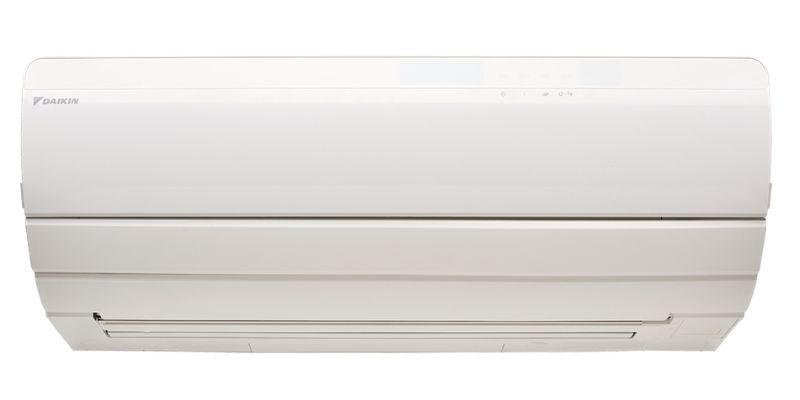 If your living room has a contemporary look, Daikin wall-mounted units are a good option. Their simple, streamlined design will be in perfect harmony with practically any type of interior.
The Daikin wall-mounted indoor unit is especially ideal for narrow quarters or area with limited floor space.
2. Floor Standing Console Units
Daikin multi-head split system floor console units come in a sleek, contemporary design that blends in effortlessly with different interiors. These units are also relatively lightweight, compact and convenient, perfect for areas that have limited wall space. The outdoor unit is usually then installed directly opposite the floor-mounted system.
3. Ceiling Cassette Units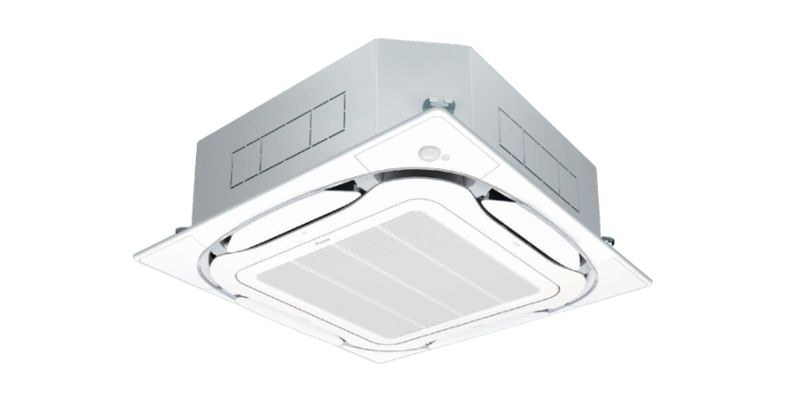 Daikin ceiling cassette indoor units seamlessly and inconspicuously blend into your ceiling space and interior, with a clean, compact, square-shaped design that can easily match all types of interiors, including homes, offices and retail shops.
Coolness or Warmth On-Demand
The type or style of multi-split air conditioning unit you choose depends wholly on your specific requirements and personal preferences.
So, if you're looking for cost and energy-efficient split systems that allow you to customise zone temperatures according to your comfort needs, consider getting a Daikin multi-head split air conditioner with Busselton Refrigeration & Air Conditioning.
If you need more information regarding this type of air conditioning system, or if you've decided you want one installed at your property and would like a quote, please contact the team at Busselton Refrigeration & Air Conditioning.
FAQs